Written by Pernille Abildgaard Ullmann & edited by Katarzyna Kazimierczuk
Tuesday – a post about the weather. Again.
As promised in the forecasts, the sun came. And it actually turned into a very nice summer day.
So, it was back to "Plan A" again - all the drums, costumes, and props were unloaded and placed back in the open grass square in Kronheden, which we are currently using as the stage.
With the unstable "summer" weather over the last days, it was nice to be able to go through everything without interruptions from the rain, but, unfortunately, the forecasts are not looking very promising for the next few days.
It feels almost like an obsession now, checking the weather forecasts every hour, and constantly talking about the weather. (And, apparently, writing about it in every single post.) But with an outdoor festival, good weather - or at least just dry weather - is crucial to success. And even the Danes from this part of Denmark, who are pretty weather-resistant, are not as fond of rain as to come and watch a whole performance if it is pouring down. And we would very much like to have people come and watch.
The Eggs
As the performance structure starts to come together more and more and the costumes are almost finished, we begin to notice the props and their condition. In this performance, there are seven large eggs playing a key role in many scenes. They are made of papier-mâché, and painted white. They used to be egg-shaped - or at least some sort of round-shaped. But years of being transported to foreign countries, kept in the dark corners of boxes, and thrown around in performances, have made them a little less egg-shaped and a lot more… Well, something-else-shaped and looking like very evil creatures would come out of them, once they hatched.
Iben took matters into her own hands and cut some of them open in an attempt to re-shape them, and she and Tippe talked about what kind of material we should use to make the surfaces hard enough to withstand their tough life of the Bridge of Winds' performance eggs.
Over the years, these eggs have been the source of some frustration to make and keep nice, and almost everything has already been tried to make the production just a little easier.
While Tippe was researching on this, she found out that a Danish crafts shop had some very nice (and properly egg-shaped) cardboard eggs, big enough to work well in the performance. They had the exact number we needed in their online stock - how lucky! Iben decided we should order them and we are now crossing 26 sets of fingers that they will arrive in time for UR-NAT.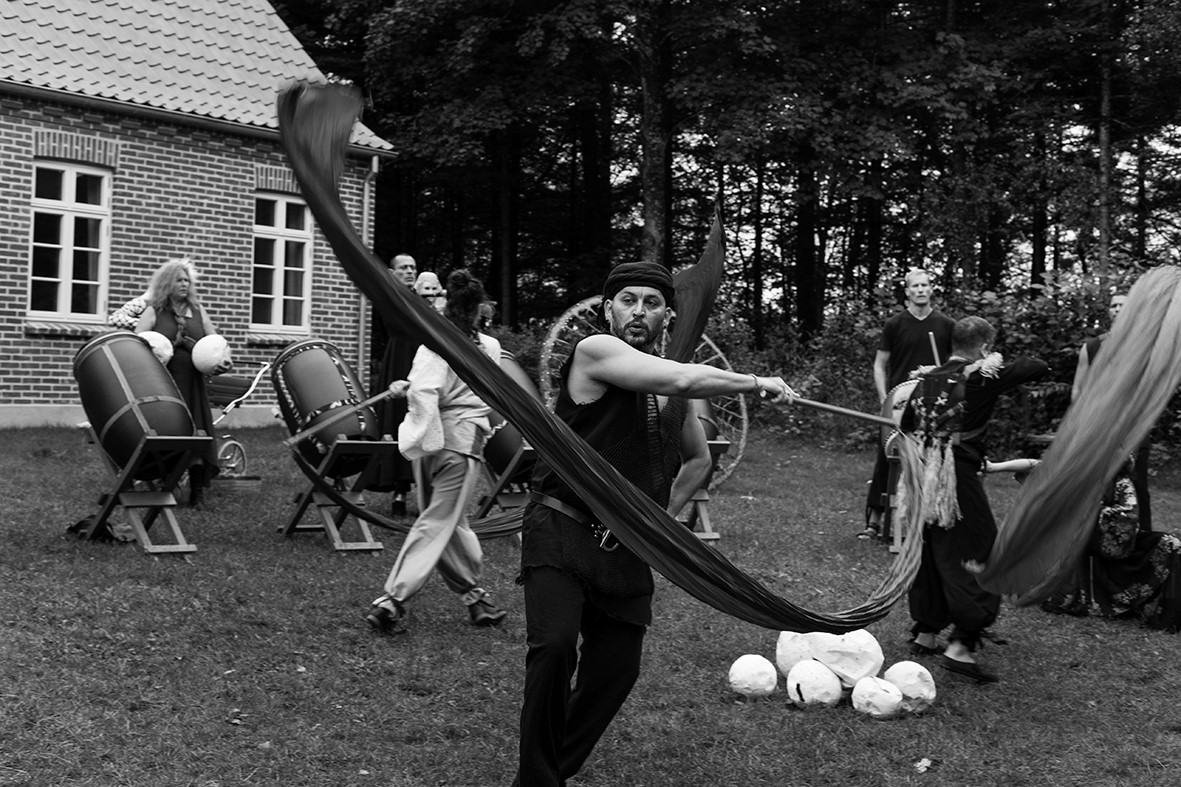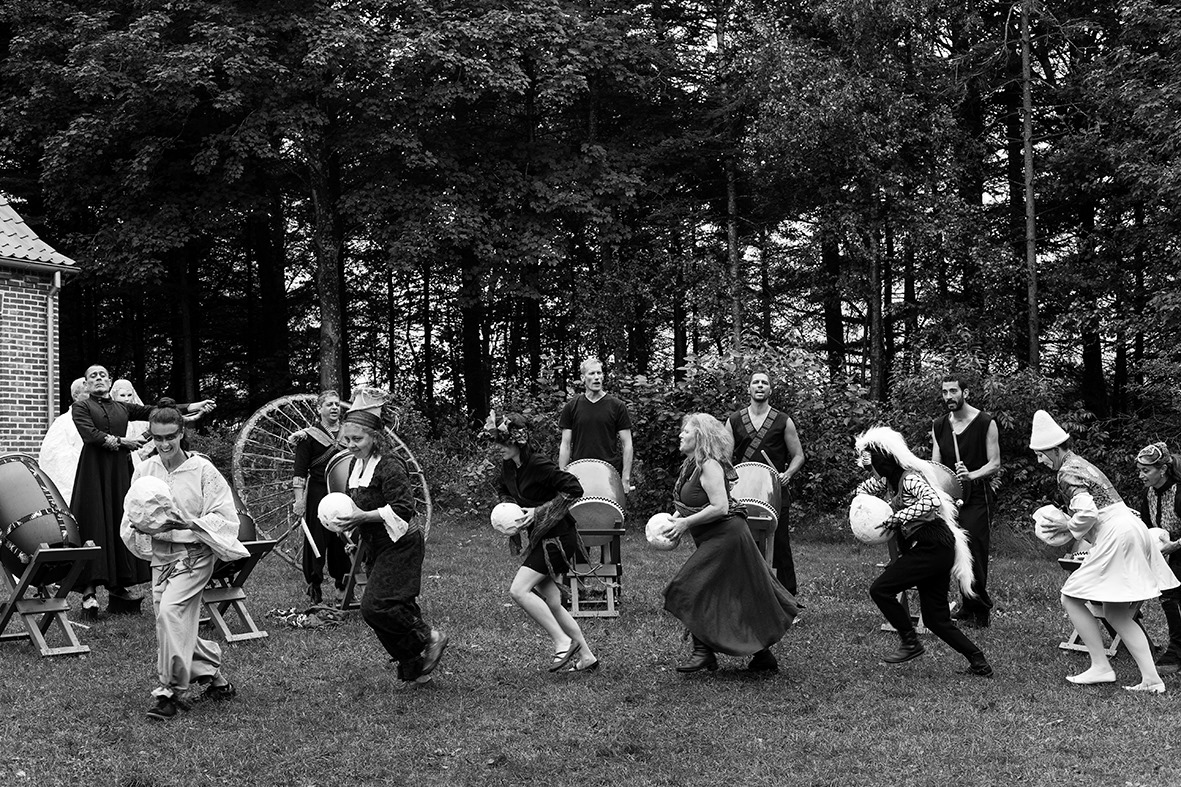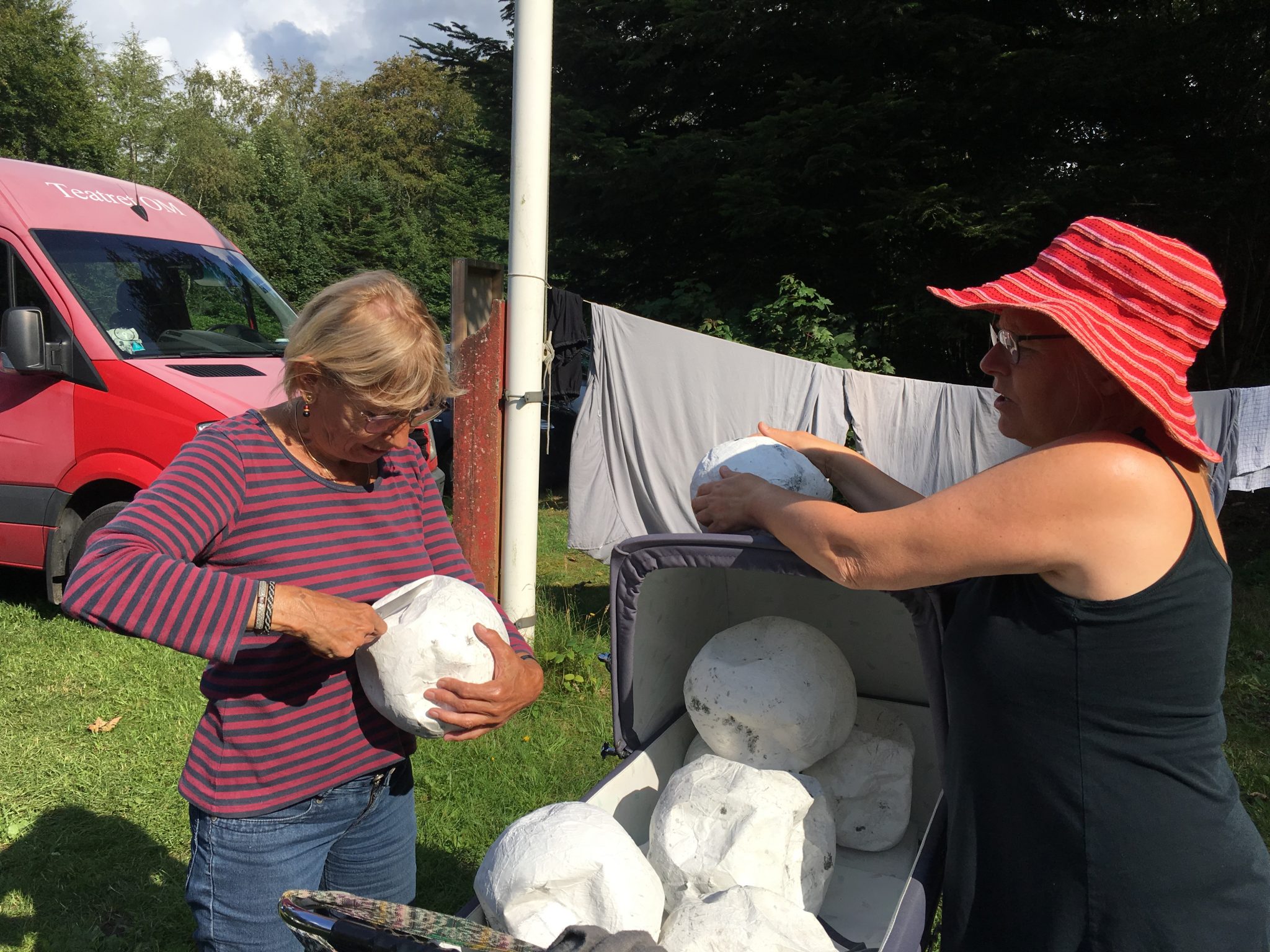 Wednesday - Working towards the Festival.
As the UR-NAT Festival is moving closer, we are starting to merge our activities with the people from the Festival. Besides our concert Voices in The Wind and of course UR-NAT, The Winds are taking part in activities almost every day of the festival week.
Today, Leo Sykes Libânio (teacher and director from England) who is directing the 30 year anniversary performance for Teatret OM we are going to be part of, came to see us in Kronheden. She came to see the rehearsals and get acquainted with the Winds' parade and UR-NAT characters, which she will be incorporating into the parade, and she will be out herewith us for the next three days. The Festival Coordinator, Søs Banke, also came by, and brought with her the printed festival programs that just came out.
During the Festival, the Winds will be doing some "pop-up" concerts, with songs from Voices in The Wind, in nursing homes, schools, and work places around the town of Ringkøbing.
For that occasion, the Winds have divided into two smaller groups, to be able to cover more places at the same time. Working in our tiny working space, it also seems that the volume of the whole group can be quite overwhelming for those non-stage rooms they will be performing in.
And the added bonus to rehearsing in two groups was, that it gave everyone a chance to experience the songs from the point of view of the audience.