Written by Pernille Abildgaard Ullmann & edited by Katarzyna Kazimierczuk
After Helsingør, we traveled to Kronheden. We are staying at a campsite in the moorland of the west coast of Jutland, in a beautiful area surrounded by nature, close to the village of Ulfborg (which means "Wolf Castle").
There were no wild wolves in Denmark for 200 years, but about seven years ago, a few wolves started wandering back into the Danish nature and, fittingly, a few of them have decided to make a home here, in this area named after them.
Unless the Wolf Castle wolves enjoy loud drumming and singing, I suspect we won't be seeing any of them during our stay though.
The building we are staying in is an older, but very charming place, which used to be a small village school up until the 60's and was later rebuilt to be used as a school camp. It is often used by scout or school groups, and has just enough space for all of us. The Winds have become quite a large group over the last years and finding a place that can host all of them can sometimes be difficult.
Next to the building we live in, there is a second building, with a room we are using as a training space – technically it's an open room, meant for having large meetings or small parties.
The rest of the travelling day was off, for some much needed rest and organising our stay in Kronheden.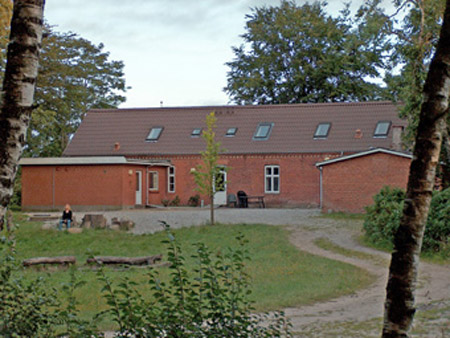 Meeting with the festival coordinator.
On Friday, we had the first official meeting with the coordinator of the UR-NAT festival, Søs Banke, who came to take us through the program of the next weeks, and the festival week in particular.
Besides the Concert and our performance UR-NAT, we are going to be taking part in a lot of activities throughout the festival, with both, the local inhabitants, and invited artists.
In the afternoon, some of the members held music rehearsals with the group's musical director, Elena Floris, to be ready for the first run-through of the performance UR-NAT tomorrow.
Later, Signe Gravlund incited a campfire with baking of "Snobrød", which is bread dough wrapped around a stick and baked in the fire. The bread itself is mediocre at best, but the process of making it along with your friends, staring at the fire, and having a nice time, is what it's all about. The Danish term "Hygge" applies here.
This was, possibly, meant for the children who are with us: Lauritz (Annemarie & Sandra's son) Thit and Leo (Signe's children), and Cornelia and Emil (Iza's children), but the adult Winds joined in very soon.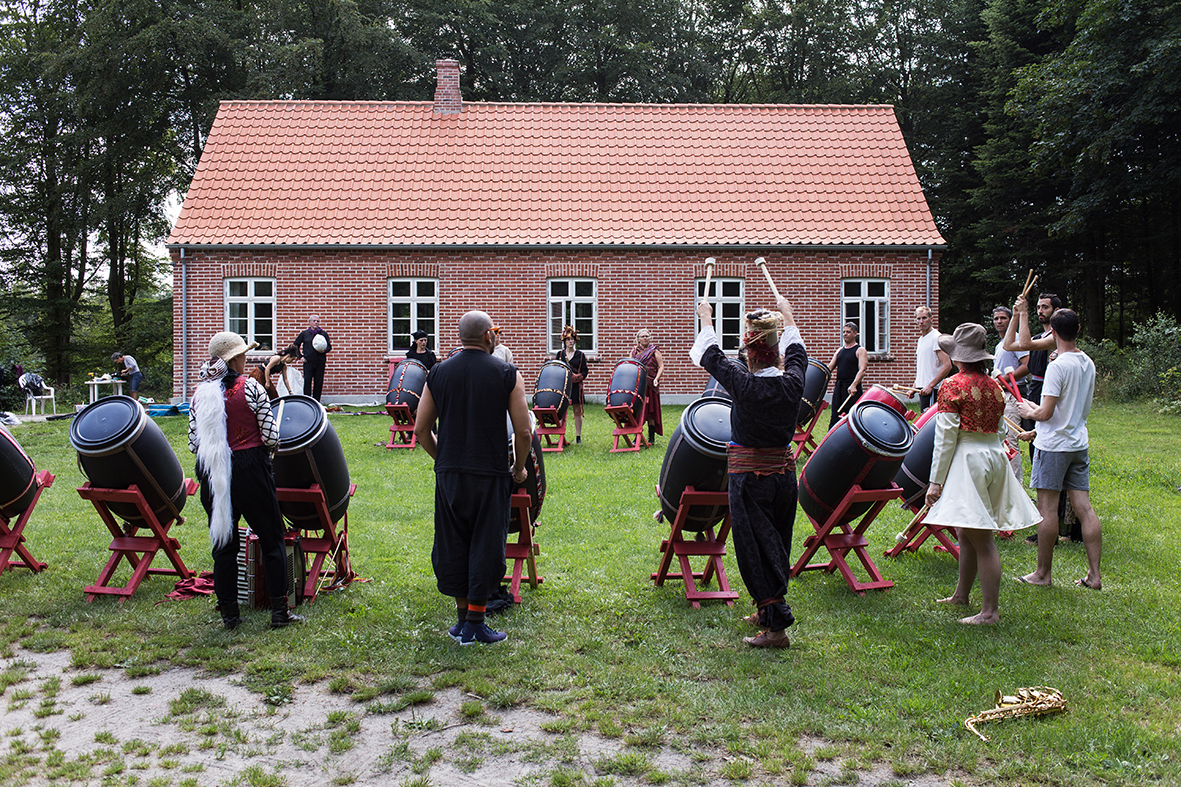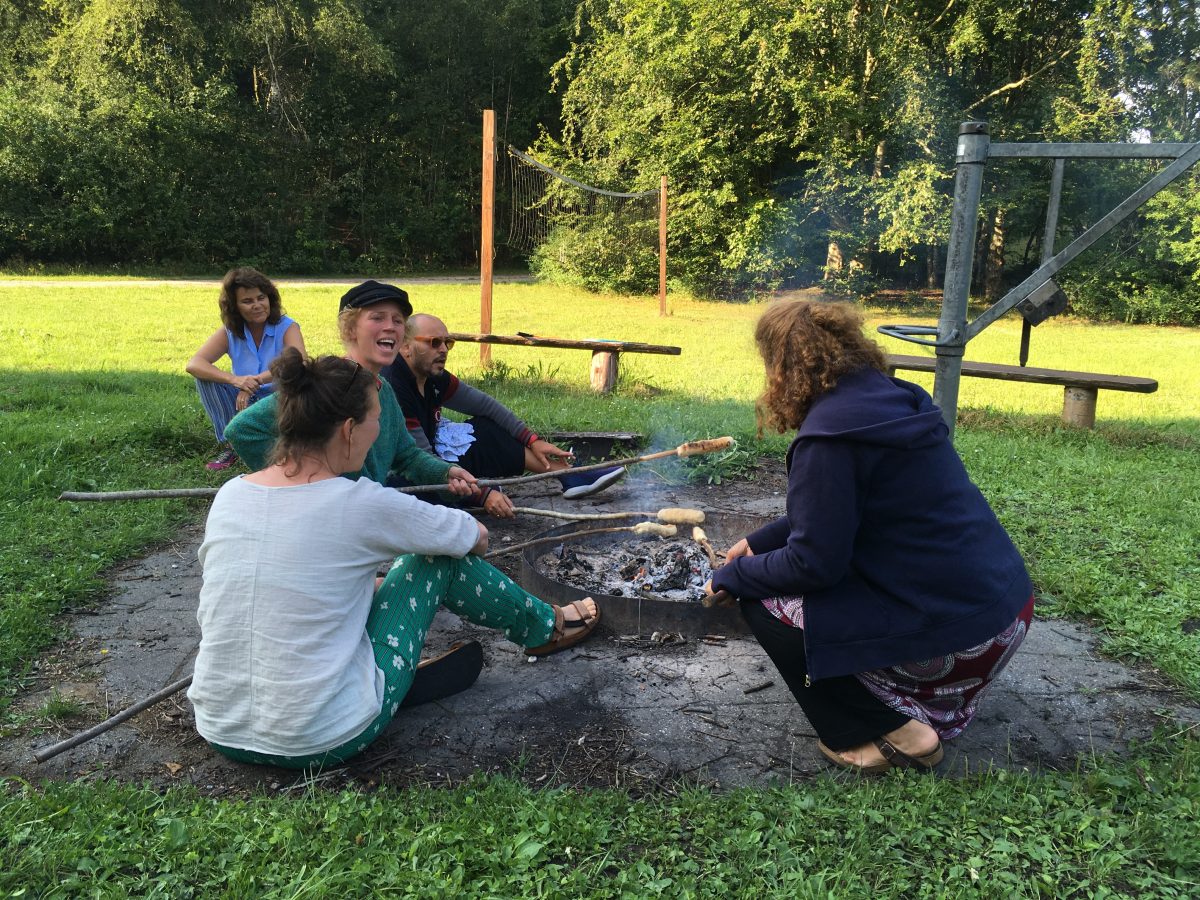 Saturday -First training
Due to the intense program in the first days, Iben decided that there would be no morning training until we reached Kronheden, so the first training was almost a week into the meeting.
As we started to enter the room meant to be training space, it became clear that it was going to be a little crowded, especially during some of the more dynamic exercises.
Because keeping connected with each other is part of the training, the Winds managed to go trough the whole training program without bumping into each other.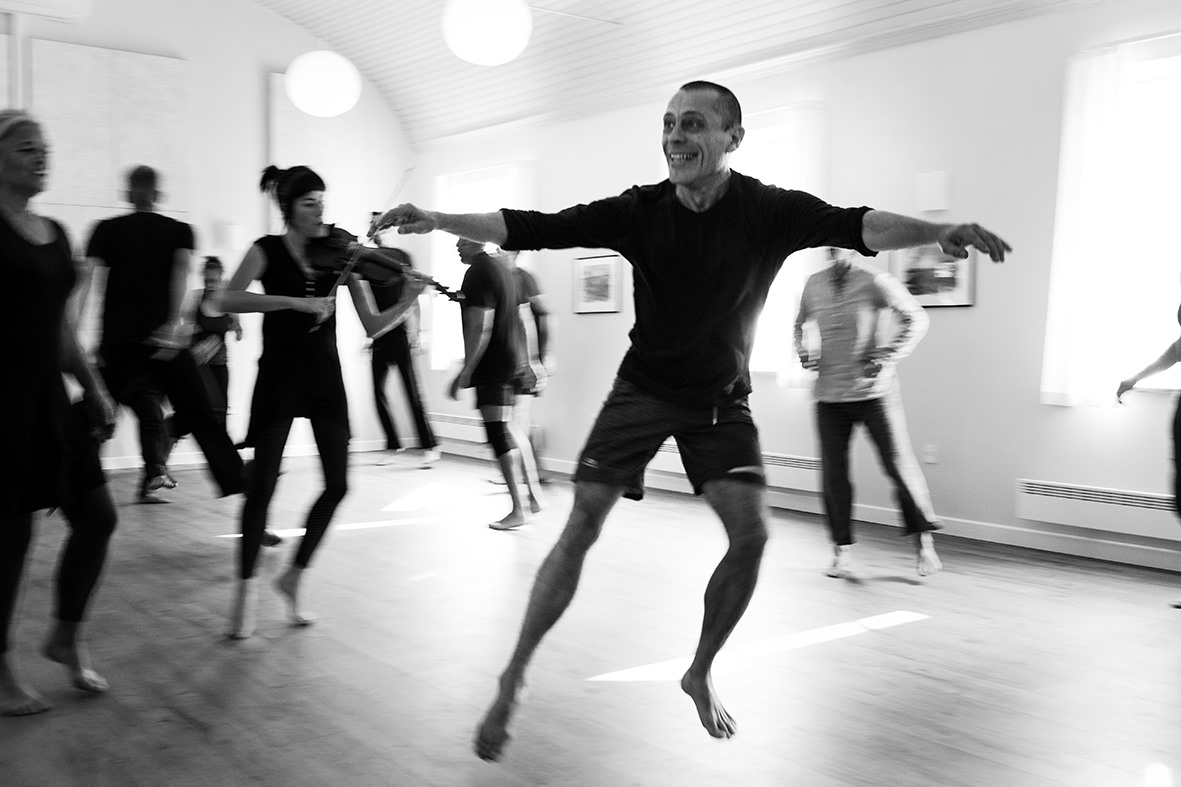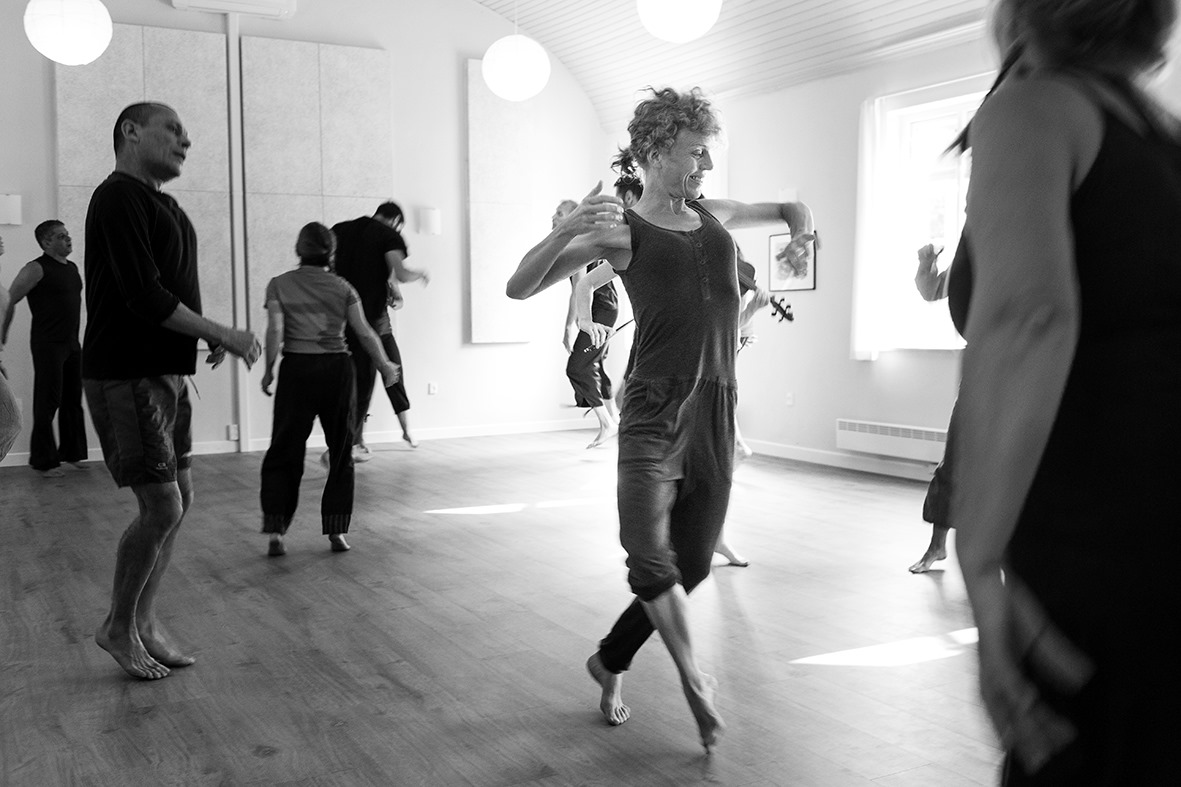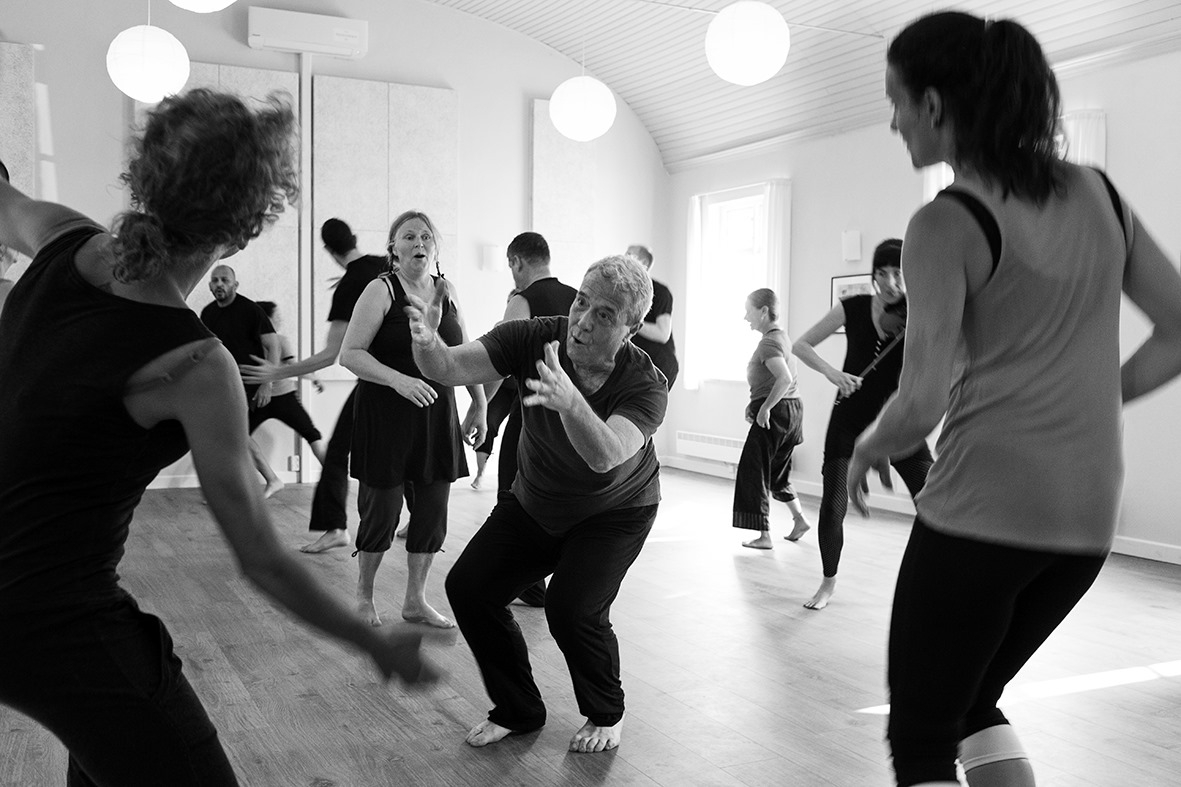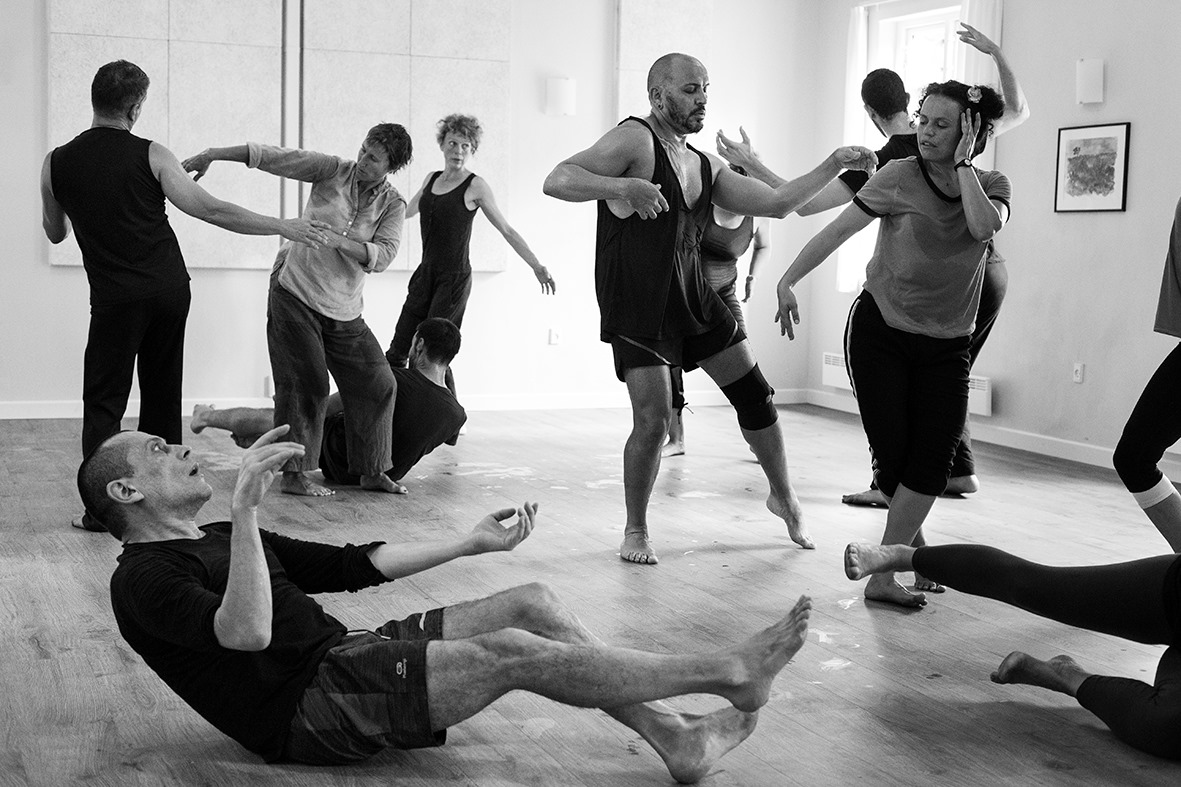 UR-NAT
This year's performance is UR-NAT, which was originally created at an UR-NAT Festival, together with Teatret OM. UR-NAT is an outdoor performance, and luckily the weather is still great so we are rehearsing outside.
This year, we have brand-new drums for the performance, designed by Antonella Diana. They are so new, that some of them still need some finishing, but they sound great. The drumsticks weren't ready yet – we produced them during the rehearsal and handed them out as we finished them.
Last time the Winds performed UR-NAT was in Paraty, in December 2016, so the collective memory of the Winds came in to play during the first rehearsal. Who did what, when, who carried that, who played this drum… It was all a bit confusing – also because some people who were in the 2016 version aren't here this year and other new people have joined the group, so there is a puzzle of fragments to put together.
Fortunately, UR-NAT was filmed in 2016, so we are able to work on the details from that.