THE NEXT MEETING
---
Denmark July 28 - August 20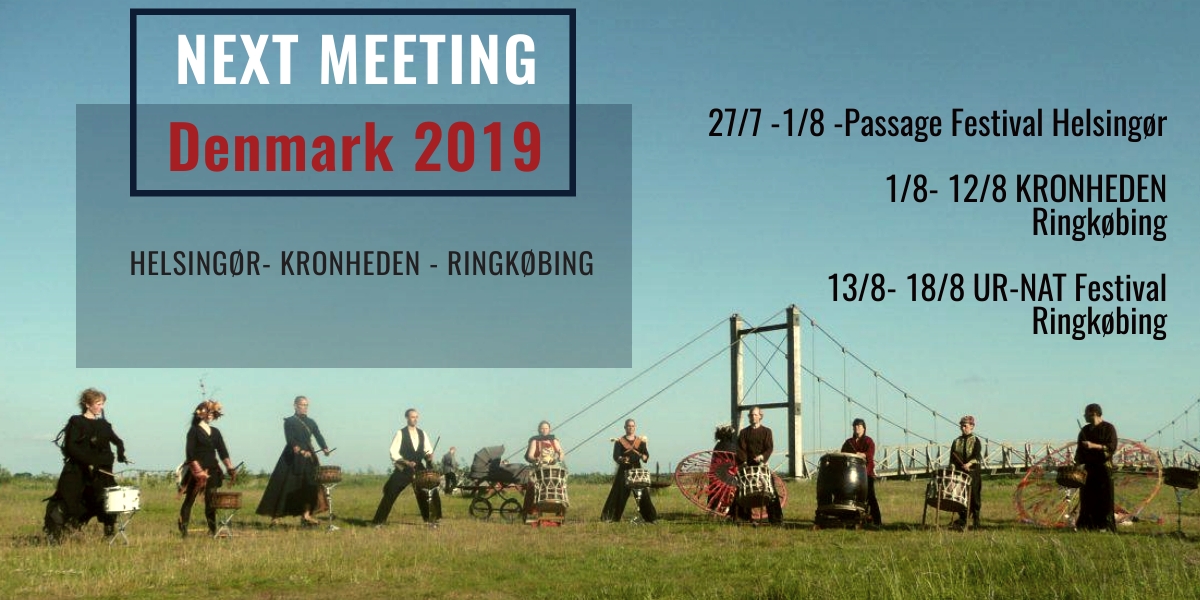 In 2019, The Bridge of Winds celebrates our 30th anniversary!
This year's meeting will be full of activities. The external program includes festivals, concerts and performances. And as usual we will use part of the time together to practice our daily training, and the continuous work on the outdoor performance Ur-Nat - The Primeval Night.
We will meet in Denmark, in Helsingør (the city where Kronborg Castle is located and Shakespeare's play Hamlet unfolds). Here we are invited to participate in the Passage Festival - an annual international street-theatre festival arranged by Danish Helsingør Teater. The festival hosts 50 theatre-groups and artists from different parts of the world and has activities in both Denmark and Sweden.
We will contribute to the Festival with a cultural barter between The Bridge of Winds and inhabitants of the housing estate area "Nøjsomhed", and with the concert Stemmer i Vinden -Voices in The Wind. The latter to be performed at Toldkammeret in Helsingør City.
After the festival in Helsingør the ensemble will travel to Jutland.
We will work and live in a school camp in Kronheden, a small rural area in the middle of a nature park close to forest and heathland where we will continue the work on the outdoor performance Ur-Nat - The Primeval Night, directed by Iben Nagel Rasmussen.
The culmination of our meeting will take place 13-18 of August when the group will be participating in the UR-NAT Festival in Ringkøbing, where

Teatret OM

is based. Teatret Om (founded by Sandra Pasini and Antonella Diana in Rome Italy in 1989) will also be celebrating its 30th anniversary!
Over the last years, several members of the Bridge of Winds have collaborated with Teatret OM in numerous cultural and theatrical projects. So what could be better than celebrating our 30 years together right there!
During the festival, The Bridge of Winds will perform Ur-Nat and Voices in the Wind in different locations and contexts, and participate in Teatret OM's anniversary performance, as well as in the festival-parade Kulturfangst.
In addition, members of The Bridge of Winds will be doing small pop-up performances and theatrical "disturbances" with songs, music and street characters in every corner of Ringkøbing county including institutions, factories, nursing homes and schools.
Due to the intense program this year, unfortunately the 2019 meeting will not be offering open workshops. But if you are in Denmark in July and August do come and celebrate with us! Watch our many surprising manifestations, follow our street-performance in towns or nature, and listen to the Voices in the Wind. We promise, you will not be disappointed!
---
Temporary Program Denmark 2019( Subject to changes)
Juli 27-28 : The Winds Arrive in Denmark
Juli 27-31: Live and work in Area "Nøjsomhed" in Helsingør. We will work within the community of Nøjsomhed, as well as rehears our Voices in The Wind concert.
August 01-12: Live and work in Area "Kronheden" near Ringkøbing, preparing for the UR-NAT Festival In Ringkøbing. We will be working on our presentations for the festival, as well as our performance URNAT.
August 13 -18: Participation in UR-NAT festival in Ringkøbing. We are performing UR-NAT and Voices In The Wind, as well as many pop-up performances and street theatre.
SEE CALENDAR FOR DETAILS ABOUT TIME; PLACE AND DATES.
PROGRAM FOR THE PASSAGE FESTIVAL HERE
PROGRAM FOR THE UR-NAT FESTIVAL HERE
Image Credit: photo 1 Iben Nagel Rasmussen